Patios (ground)
FRONT GROUND-LEVEL DECKS

IMPORTANT - FRONT GROUND LEVEL PATIOS MUST BE ENCLOSED BY A FENCE (see fence standards)
Alterations to front decks shielded from public view by a fence do not require DRB approval.

REAR PATIOS AND DECKS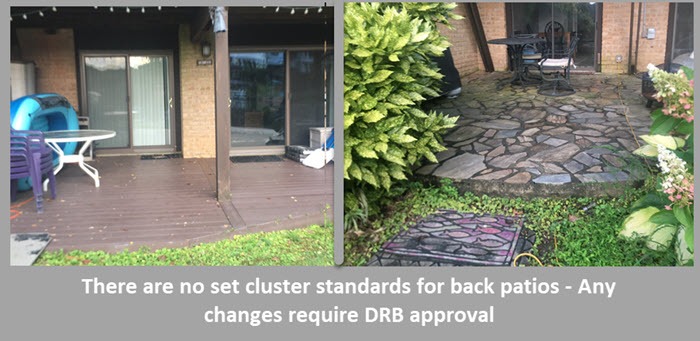 Any visible alterations to ground-level patios and decks require DRB approval.
Ground-level wooden decks must be stained with Olympic Oxford Brown or Black Walnut (see section on exterior wood stains). DRB approval is not required to replace wood planks with Trex (color Woodland Brown).

Rear stone patios are permitted with DRB approval required.

Applications for extending rear decks and patios must include a home plat showing locations of flood plain and easements, over which decks or other structures are prohibited.