Addition, removal or changes to currently existing fence requires approval by Reston DRB and should adhere to these cluster standards.

FRONT GROUND LEVEL DECKS AND PATIOS MUST BE ENCLOSED BY A FENCE.

NO REAR YARD FENCES. REAR GROUND LEVEL DECKS AND PATIOS MUST BE OPEN.
FENCES  -  EXISTING CLUSTER STANDARD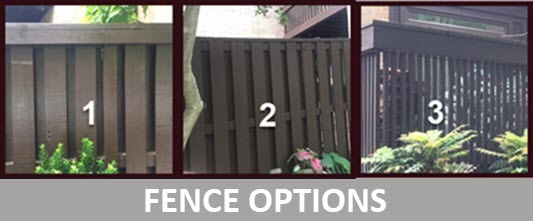 There are three standard fences in Lakewinds 1 cluster:
Board-on-board with wide trim board and cap board.
Board-on-board without trim board but with cap board.
Picket with wide trim board and cap board.
Top of fence is not to exceed six feet above ground level
Bottom of fence to be no more than 12 inches above grade at any point
A landscaping strip is to be maintained between the fence and the sidewalk
FENCE GATE
Option 1 - Gate with vertical boards and rounded top;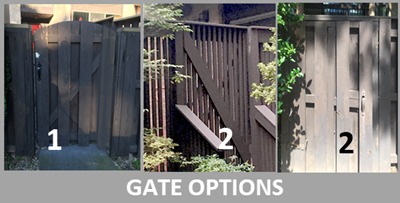 design of this gate must be board-on-board and stained to match the fence
the gate support must be 60" tall and 12" shorter than the fence
the highest point of the gate arch must be 4" above the gate support and 8" below the top of the fence
Option 2 - Gate, if used, matches the fence in material, color, design, and height (the top is straight and flush with the fence). The bottom of the gate should be within 6" of the ground or walkway path.

PRIVACY FENCES
DRB has approved as a cluster standard lattice privacy fences for rear ground-level use only.  These fences -

should not exceed 6' in height and 4' in width
lattice should be orthogonal (horizontal and vertical not diagonal)
must be stained Olympic solid "oxford brown"
must be framed on all sides with 2" x 2" moulding.
that no more than 2 - 4" x 4" support posts be installed as needed.
FENCING AROUND HEAT PUMPS


Board-on-board fencing similar in appearance to other fences may be used to shield heat pumps.